For the oil and gas industry, finding and accessing new sources of energy depends on global availability of extraordinarily tough drilling lines that let you explore and extract resources buried deep beneath the surface. Union drilling lines are like our engineers and personnel – with you day-in, day-out helping you produce on the rig. Offshore, land, workover or whatever the rig may be – we know the right rope for your application. You can count on Union's outstanding quality and support wherever your rig may be.
Drilling.
Marine riser tensioner.
Offshore cranes and winches.
Platforms.
Deep water mooring.
Various geophysical applications.
Our GOWR-621F steel wire rope, also called 6×21 wire rope is a flexible general engineering wire rope readily available in various steel options. The wire rope round consists of standard 6 strands, round strand ropes with 21 wires per strand. 6×21 construction enables the 6-strand wire rope to achieve a superior breaking load to the 6×19 construction range.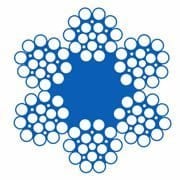 Feature:
For cable tool line.
Six high performance strands.
With fiber core.
Added filler wires for increased bending fatigue resistance.
Breaking Loads
Nominal Diameter
Approximate Mass
Minimum Breaking Loads
1770 Mpa
1960 Mpa
[mm]
[kg/m]
[kN]
[Kg]
[kN]
[Kg]
14
0.704
114.5
11,677
126.8
12,930
16
0.919
149.5
15,252
165.6
16,889
18
1.163
189.2
19,303
209.6
21,375
20
1.436
233.6
23,831
258.7
26,389
22
1.738
282.7
28,835
313.1
31,931
24
2.068
336.4
34,317
372.6
38,000
26
2.427
394.9
40,274
437.2
44,598
28
2.815
457.9
46,709
507.1
51,723
30
3.231
525.7
53,620
582.1
59,376
32
3.676
598.1
61,008
662.3
67,557
34
4.150
675.2
68,872
747.7
76,265
36
4.653
757.0
77,213
838.3
85,501
38
5.184
843.4
86,030
934.0
95,265
40
5.744
934.6
95,325
1034.9
105,557
42
6.333
1030.4
105,095
1141.0
116,377
44
6.950
1130.8
115,343
1252.2
127,724
46
7.596
1236.0
126,067
1368.6
139,600
48
8.271
1345.8
137,268
1490.2
152,003