GOWR-636S Oil &gas Wire Rope
Gas & oilfield wire ropes with higher breaking strength, excellent flexibility, better rotation resistance and extended lifespan are urgently needed with the development of gas and oil industry. These steel wire rope are designed to increase the productivity on rigs and minimize downtime.
For the oil and gas industry, finding and accessing new sources of energy depends on global availability of extraordinarily tough drilling lines that let you explore and extract resources buried deep beneath the surface. Union drilling lines are like our engineers and personnel – with you day-in, day-out helping you produce on the rig. Offshore, land, workover or whatever the rig may be – we know the right rope for your application. You can count on Union's outstanding quality and support wherever your rig may be.
Drilling.
Marine riser tensioner.
Offshore cranes and winches.
Platforms.
Deep water mooring.
Various geophysical applications.
Details:
Material: high carbon wires or other custom materials.
Standard: complying with API standards.
Tensile strength: 1370N/mm2 up to 2260N/mm2.
Coating: zinc coating or other custom coating upon request.
Styles: regular, swaged, compacted or non-compacted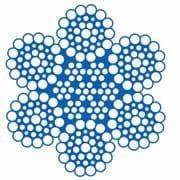 Feature:
For mast raising line.
Six high performance strands.
Meet API specification.
Right regular or right lang lay structure.
With independent wire rope core.
Norminal diameter
mm

ApproxWeight
kg/100m

NominalStrength  MPa

1570

1670

1770

1870

1970

Min.Breaking Load  kN

8
10
12
13
14
16
18
20
22
24
26
28
30
32
34
36
38
40
42
44
46
48
50
52
54
56
58
60

26.8
41.8
60.2
70.6
81.9
107
135
167
202
241
283
328
376
428
483
542
604
669
737
809
884
963
1040
1130
1220
1310
1410
1500

35.8
55.9
80.5
94.5
110
143
181
224
271
322
378
438
503
572
646
724
807
894
986
1080
1180
1290
1400
1510
1630
1750
1880
2010

38.0 
59.5
85.6
100
117
152
193
238
288
342
402
466
535
609
687
770
858
951
1050
1150
1260
1370
1490
1610
1730
1860
2000
2140

40.3
63.0 
90.7
106
124
161
204
252
305
363
426
494
567
645
728
817
910
1010
1110
1220
1330
1450
1580
1700
1840
1980
2120
2270

42.6
66.6
95.6
113
130
170
216
266
322
383
450
522
599
682
770
863
961
1070
1170
1290
1410
1530
1660
1800
1940
2090
2240
2400

44.7
69.8
100
118
137
179
226
279
338
402
472
547
628
715
807
904
1010
1120
1230
1350
1480
1610
1740
1890
2030
2190
2350
2510